How to migrate 360Bind tasks from Legacy to the Web Platform
Symptom

How to migrate 360Bind tasks from 360 Legacy to 360 Web Platform
Environment
360Suite Web Platform

SAP BusinessObjects Business Intelligence 4.1

SAP BusinessObjects Business Intelligence 4.2

SAP BusinessObjects Business Intelligence 4.3
Resolution

Log into 360Suite Legacy.

Navigate to the Schedule tab and under Schedule Tasks menu on the right, select Schedule Bind.

Select the Pending and External tasks you want to export by checking the box to the far right of the task(s). NB: Only Pending and External tasks are taken into account during the import.


You can select one or multiple tasks by ticking the checkbox(es) to the right when you highlight he .


Click the Export icon under Shortcuts menu. This will export a .zip file of you task(s).

6. Log into 360 Web Platform Admin Console with the 360 user:

http://<server_name/IP>:<port>/360.suite/admin



7. Go to the
Bind Configuration
tab, where you will see the Import Legacy Tasks section. If you do not see the
Bind Configuration
tab, this means that the 360Bind license key has not been applied.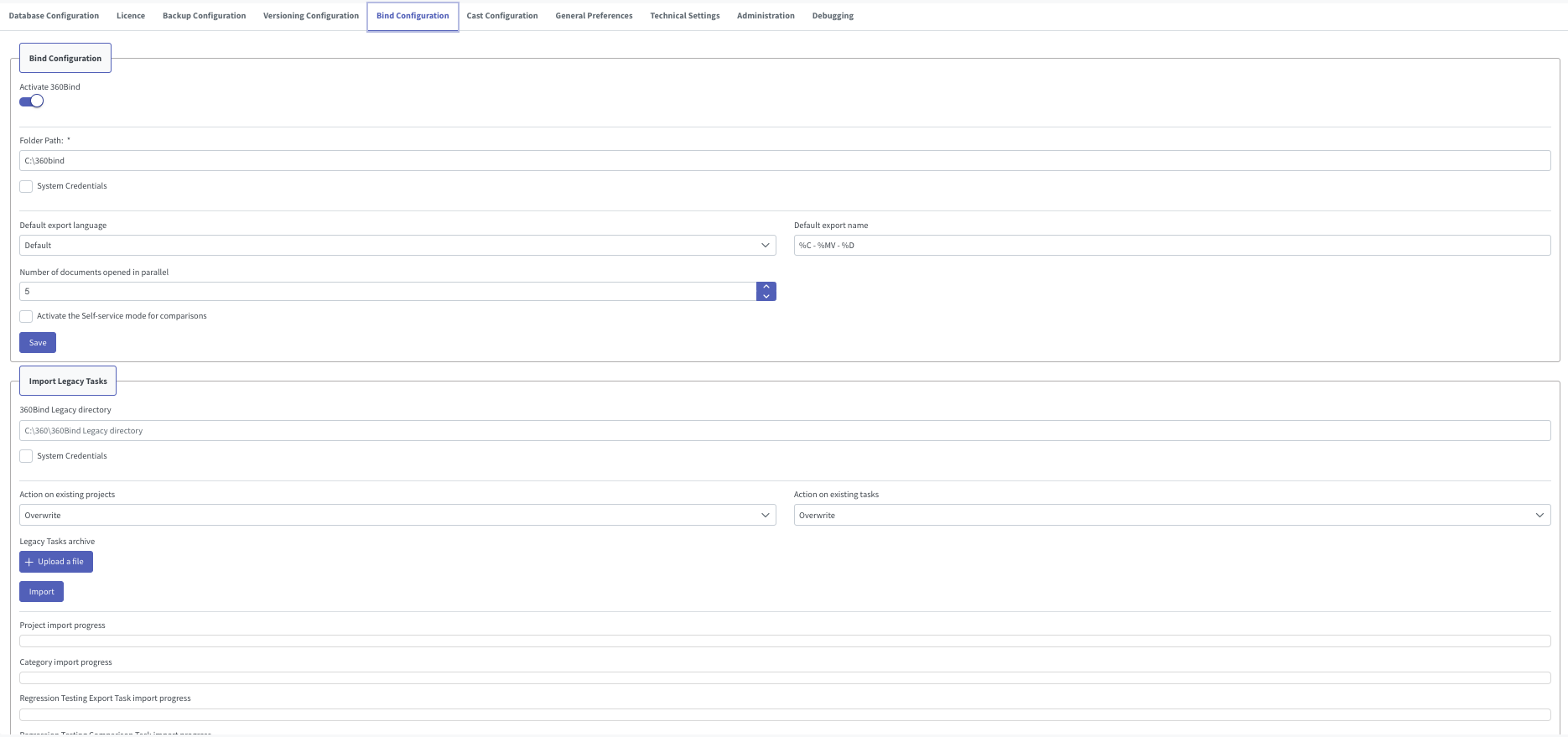 8.
For
360Bind Legacy directory
, specify the location of your 360Bind folder path.
9.
For
Credentials
, optionally check this box and specify the username and password.
10. For
Actions on specific projects
, select whether tou want to overwrite, merge of ignore. More details are available
here
11. For
Legacy Tasks archive
, Upload the Legact tasks archive created in step 5.
12.
Click
Import
to launch the import action.
Optionally, click on the "Download logs" button to download logs. Once the import is finished, click on "New External Tasks URLs " to download the Excel export, including for each external Legacy task, the matching URLs within both applications.
13.
Import progress will show success and failures when complete. This may take some time, depending on the number of tasks you are importing. A log of the import will be available.
14. Connect to the Web Platform. The imported projects and tasks are available under the Regression Tests Repository menu and under the pending and / or the external regression testing export tasks and the regression testing comparison tasks context menus.
Schedule, migrate, 360Bind
Product
Product or Product version
360Suite Web Platform 2021.2+



Languages
Last updated over 1 year ago